Culver's to sponsor fundraiser for Freedom Honor Flight
More than 160 restaurants in eight states to participate in May 19 event, including Culver's in Mauston, Sparta and Tomah
Most of Culver's restaurants across the country will participate in a fundraiser for their local Honor Flight on Tuesday, May 19. Participating restaurants in Arizona, Florida, Illinois, Indiana, Michigan, Missouri, Ohio, South Carolina and Wisconsin will donate 10% of their sales to Honor Flight on that day.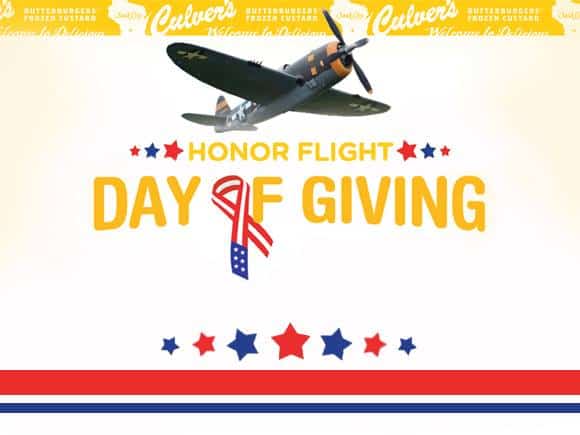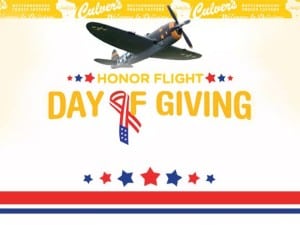 "We're happy for the opportunity to support the Honor Flight program and we hope our guests will too," says Craig Culver, co-founder of the restaurant chain. "Men and women who put their lives on the line to protect our freedom are true heroes," added Craig.
Honor Flight is a non-profit group created to honor America's veterans by transporting them to Washington D.C to visit their war memorials. The Honor Flight network gives top priority to World War II veterans and those terminally ill who fought in later conflicts. The Freedom Honor Flight is also accepting applications from Korean War veterans.
"This is an opportunity for us to give back to those who served for all of us," adds Craig. "For many veterans time is running out to say thanks. We hope our guests will come to participating Culver's restaurants to enjoy great food while supporting a great cause."
Read Craig Culver's Letter to Vets
About Culver's
For over 30 years, Culver's guests have been treated to cooked-to-order food made with farm-fresh ingredients, served with a smile. The ever-expanding franchise system now numbers more than 540 individually owned and operated restaurants in 22 states. The restaurants' nationally-recognized customer service is based on small-town, Midwestern values, genuine friendliness and an unwavering commitment to quality. Signature items include the award-winning ButterBurger®, made from fresh, never frozen, beef, and Fresh Frozen Custard, including the famous Flavor of the Day program. For more information, visit http://www.culvers.com.