Freedom Honor Flight returns to the skies on Saturday, May 7
Organizers are preparing for Freedom Honor Flight's 26th trip to honor veterans by flying them to Washington D.C., to see the memorials built in their honor. The single-day itinerary includes a welcome in Washington, D.C., and visits typically include the WWII Memorial, the Korean War Veterans Memorial, Vietnam Veterans Memorial, the National 9/11 Pentagon Memorial, Arlington National Cemetery and other sites via luxury motorcoaches.
Eager to fly are the 97 veterans from the Vietnam Era, nine Korean Era veterans and one World War II veteran slated for the trip. The veterans fly for free, accompanied by volunteer guardians who pay their own way to assist the veterans on this "trip of a lifetime."
As with every Freedom Honor Flight, accompanying the veterans are a physician and four paramedics from Gundersen Health System and a physician from Mayo Clinic Health System, all out of the La Crosse area. Both health systems have been longtime supporters of Freedom Honor Flight, providing the paid services of the medical professionals at no charge to the organization, plus paying for their flights. Many honor flight veterans are elderly and depend on this medical care to have a safe and comfortable experience.
The public is welcome at the morning sendoff and the evening welcome home ceremonies. Ample parking is available with shuttle service, provided for this flight by UPS employee volunteers. All ground activities are held at Colgan Air, Hangar 4, La Crosse Airport.
In the morning, hangar doors open at 5 a.m. A brief ceremony precedes the American Airlines charter flight, set to depart at 6:55 a.m. The popular welcome home ceremony features fireworks by the La Crosse Skyrockers and the Westby High School Marching Band, a special treat considering this flight has some veterans from Westby. Hangar doors open at 7 p.m. The flight is expected to return between 9 and 10 p.m.
Freedom Honor Flight is the first Wisconsin affiliate of the national network of Honor Flight organizations. The hub, based in La Crosse, serves 30 counties in western Wisconsin, southeast Minnesota and northern Iowa. The group's mission is to organize and fly groups of veterans to Washington D.C. to visit the war memorials that stand in their honor. The group receives no government funding and depends on donations, which are tax deductible to the full extent of the law.
Freedom Honor Flight returns to the skies on Saturday, May 7
An Octoberfest tradition sure to get your motor running is celebrating 12 years on Sunday, October 2, 2016. The Show and Shine Car show features hundreds of custom classics with donations going to the Freedom Honor Flight, Big Brothers Big Sisters of the 7 Rivers Region, Boys and Girls Clubs of Greater La Crosse and WAFER Food Pantry.
The show will be held 9 am to 2:30 pm, Sunday, October 2, 2016 with voting ending at 1 pm and a trophy presentation at 2:30 pm.
This show regularly raises enough funds for Freedom Honor Flight to send at least five veterans to Washington D.C.
Enjoy refreshments, drawings, silent auction, music and more!
For information on registering your classic car for this event, please contact Dave at 608-783-2842.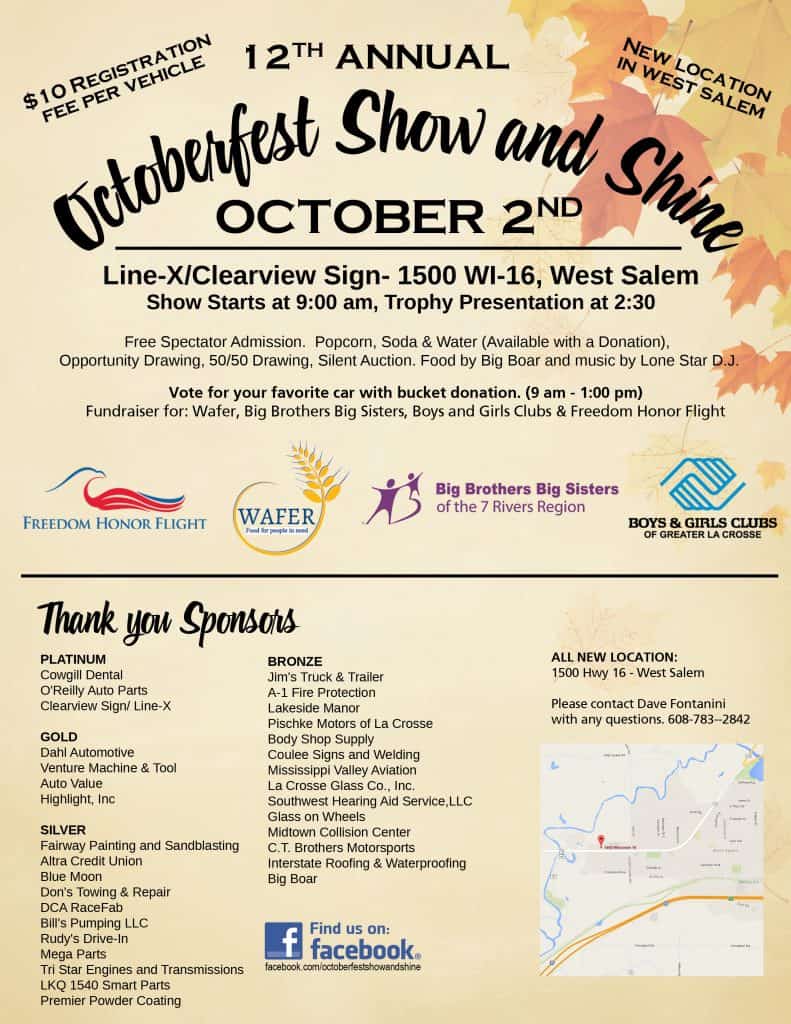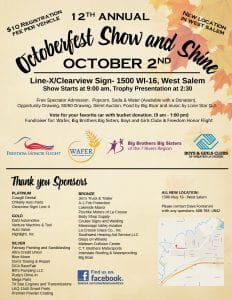 The 12th Annual Octoberfest Show & Shine Car Show will benefit Freedom Honor Flight
Winona Elks Lodge #327 is hosting a Freedom Honor Flight Car, Truck, Motorcycle, or Anything Show! Join us for a great car show, silent auction, bake sale and spaghetti dinner
11 am to 2 pm
Saturday, May 14, 2016
Elks Lodge 4540 Service Drive, Goodview, Minnesota
Serving Spaghetti Dinner for $7 from 11 am until gone.
Donations to Freedom Honor Flight are welcome. Questions? Call 507-452-4716. For car show information, contact Arnie Jackson at 507-454-3769.
Spaghetti Dinner and Car, Truck, Motorcycle Show set for May 14
Spring flight to be named 'Sparta American Legion Post 100 Flight'
April 11, 2016, La Crosse, Wis – Freedom Honor Flight, the La Crosse-based hub of the national Honor Flight program for veterans, announced today its 2016 flight schedule. The spring flight is scheduled for May 7, 2016. The fall flight is set for September 17, 2016. The organization has taken more than 1,600 veterans on a flight to date. The 2016 flights will be the 17th and 18th held.
Officials also announced that the May 7 flight will be named "Sparta American Legion Post 100 Flight," in recognition of the support the Sparta post and community have provided to Freedom Honor Flight over the past several years. Sparta Post 100 has raised and donated more than $150,000. This remarkable amount from a community has in effect, paid for 300 veterans to be honored on a one-day trip to Washington D.C. to see their memorials.
Support of this kind is increasingly important for honor flight organizations. "The cost of each flight has increased by more than $20,000 over the past two to three years," said Pat Stephens, president of the La Crosse-based Freedom Honor Flight. Stephens recently attended a national conference of honor flight officials from many of the 130 hubs in 44 U.S. states. "Not all hubs are in as good of financial shape as ours," he shared. "The financial support of generous individuals, corporate sponsors and communities like Sparta, allow us to properly thank our veterans by taking them on an honor flight." S
The May 7 flight will have seven WWII veterans, 78 Korean veterans and three Vietnam veterans. Veterans are selected in order of application, though World War II veterans have priority status. Ten of the veterans on the spring flight are flying under the TLC (Their Last Chance) program; which allows terminally ill veterans to fly under priority status. There are 350 veterans on the hub's waiting list.
2016 flight schedule announced
Christ Is Lord Lutheran Church in Onalaska, Wisconsin, is holding a Veterans Appreciation Dinner Thursday, March 31 at 6 pm. All area veterans are welcome. Each veteran may bring a guest.
Christ Is Lord Lutheran Church is located at 1269 County HWY PH, Onalaska, Wisconsin.
Please RSVP by Monday, March 29 to 608-781-5821.
Next Page »