2017 Festival Foods Icon Sale
Festival Foods has partnered with Freedom Honor Flight for its second icon sale beginning June 24 through July 8. Customers can donate by purchasing $1 and $5 icons for display. In addition to icons, customers will have the opportunity to sign banners used to welcome home veterans at the September 16 Flight 20 homecoming ceremony.
Participating locations include:
La Crosse / Copeland 30 Copeland Ave
La Crosse / Village 2500 State Rd
Onalaska 1260 Crossing Meadows Dr
Holmen 600 N Holmen Dr
Last year's sale raised $14,783.55 for Freedom Honor Flight. Thank you for supporting our nation's heroes with your donation!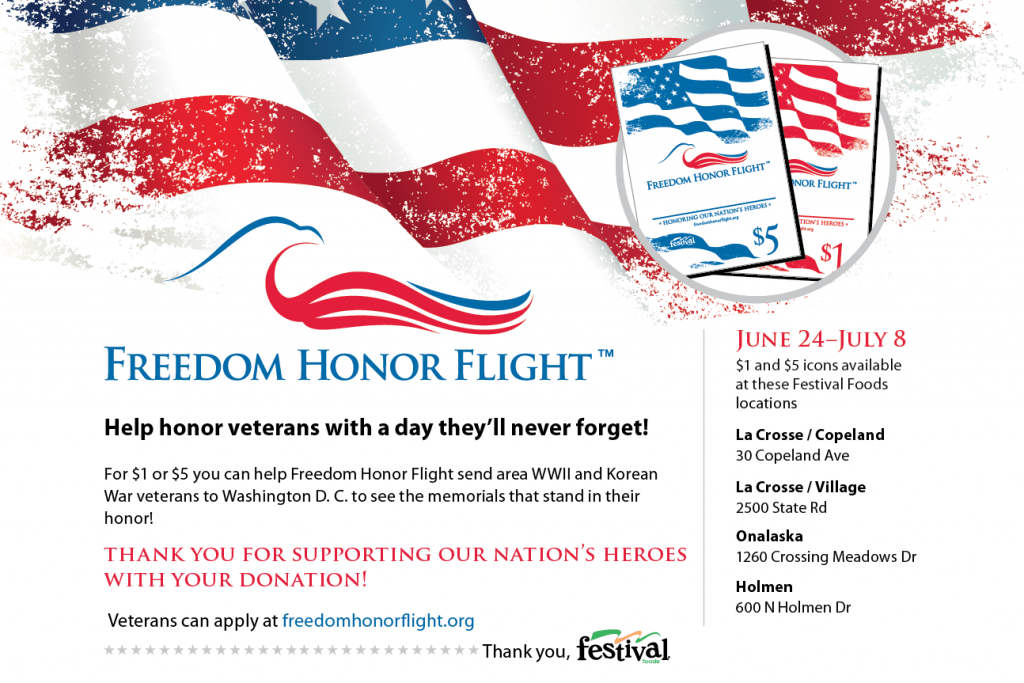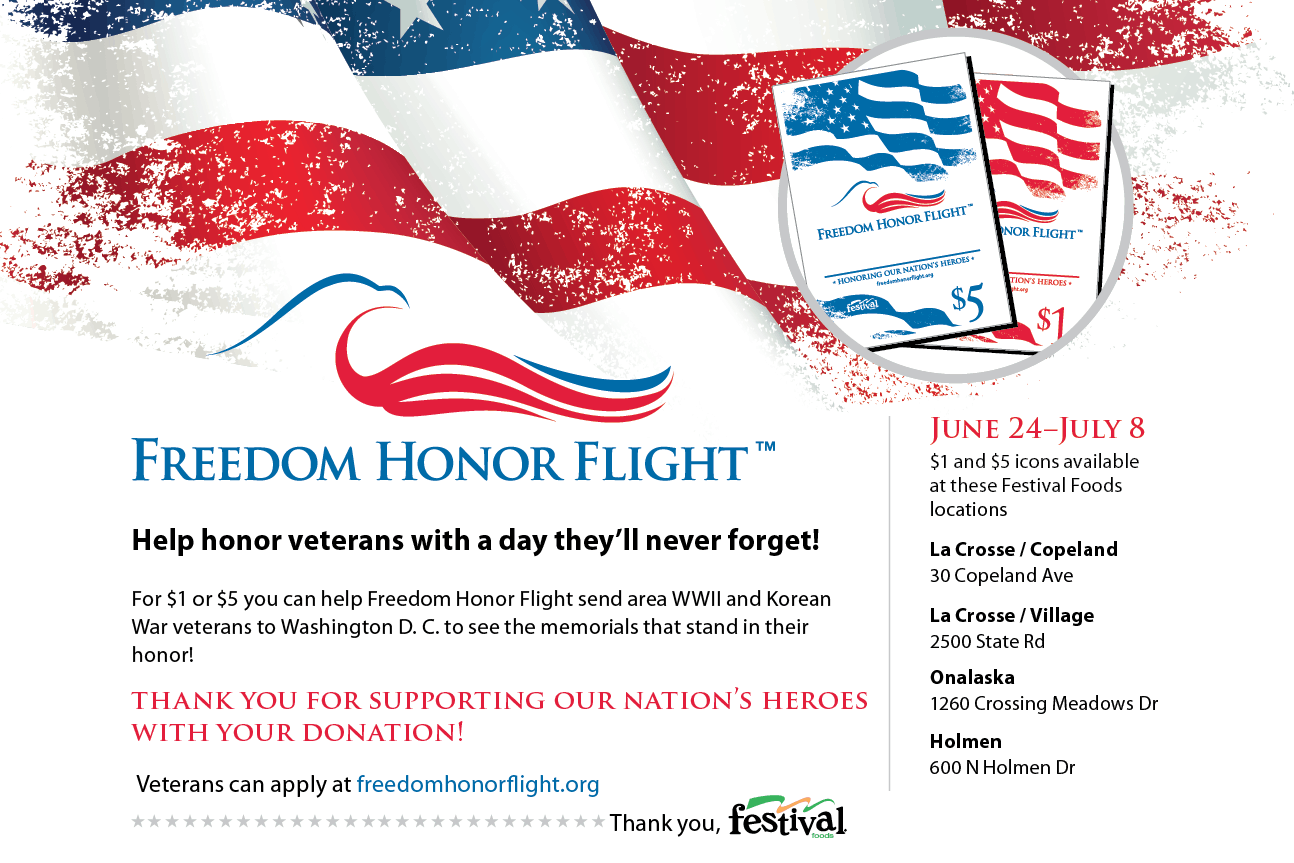 Sparta Freedom Dance set for July 2
Club 16 in Sparta is hosting Freedom Dance: Legends and Outlaws Sunday, July 2 from noon to 4 p.m. Donations to be accepted at the door with a 50/50 drawing. Proceeds benefit Freedom Honor Flight.
For more information, please contact: Tim Woolworth, 608-272-3718 or Linda Frederick, 608-484-0618.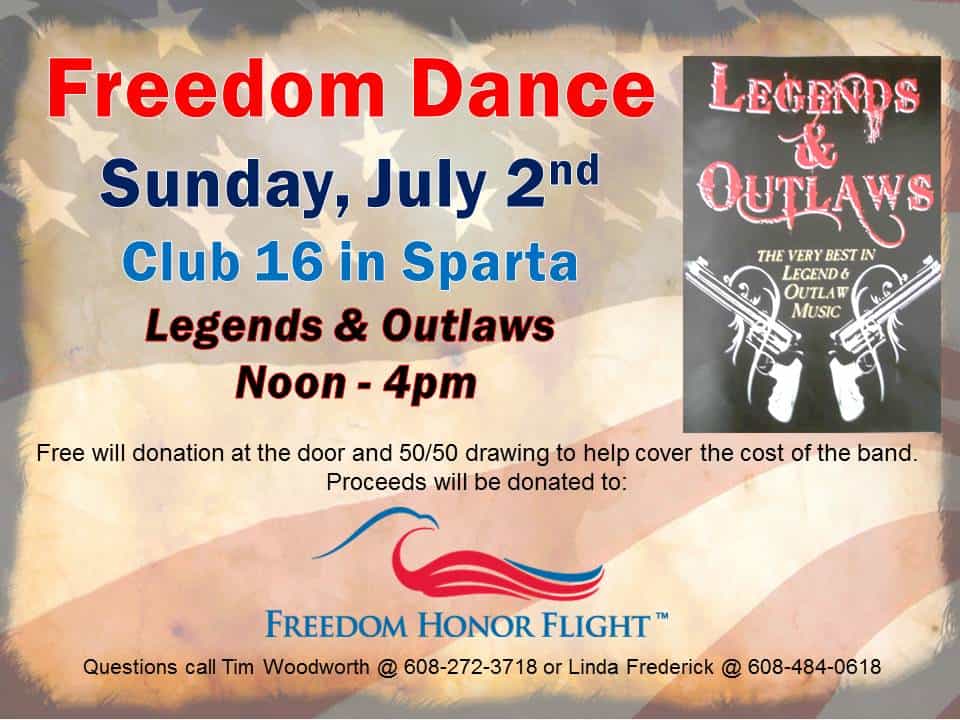 Viroqua Middle School presents donation from coin drive campaign
On April 7, the Viroqua Middle School student body presented Freedom Honor Flight President Pat Stevens with a check from a recent coin drive. In total, the students raised $954.54 in two days! Funds will go towards the travel expenses of local veterans on future flights.
Students presenting the check below are: Ava Olson (left), Cale Anderson (center) and Alicia Stuber (right).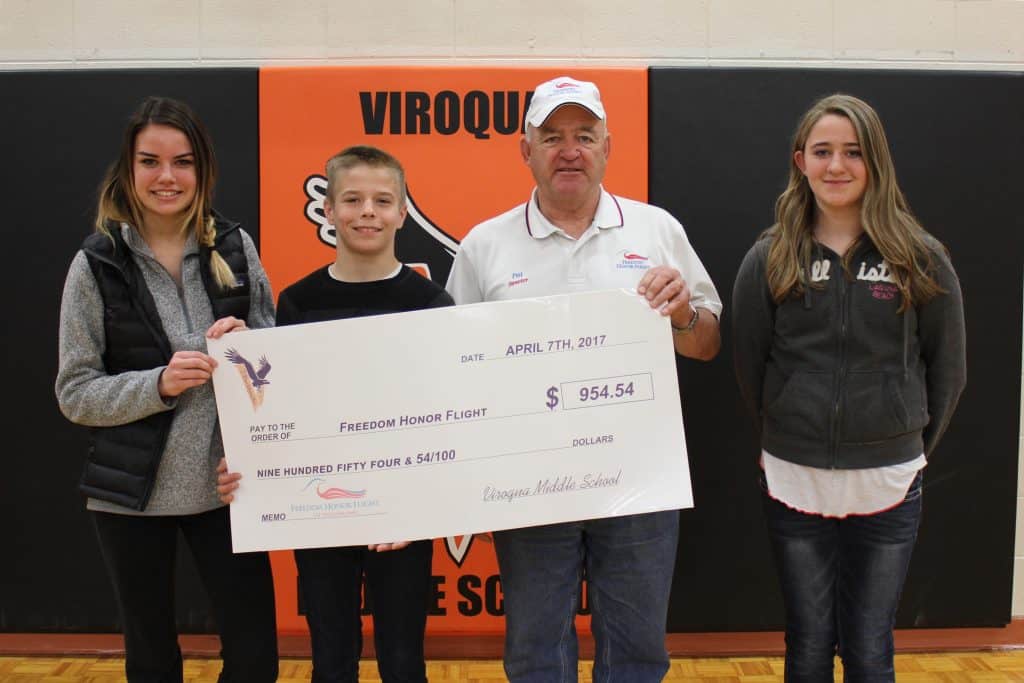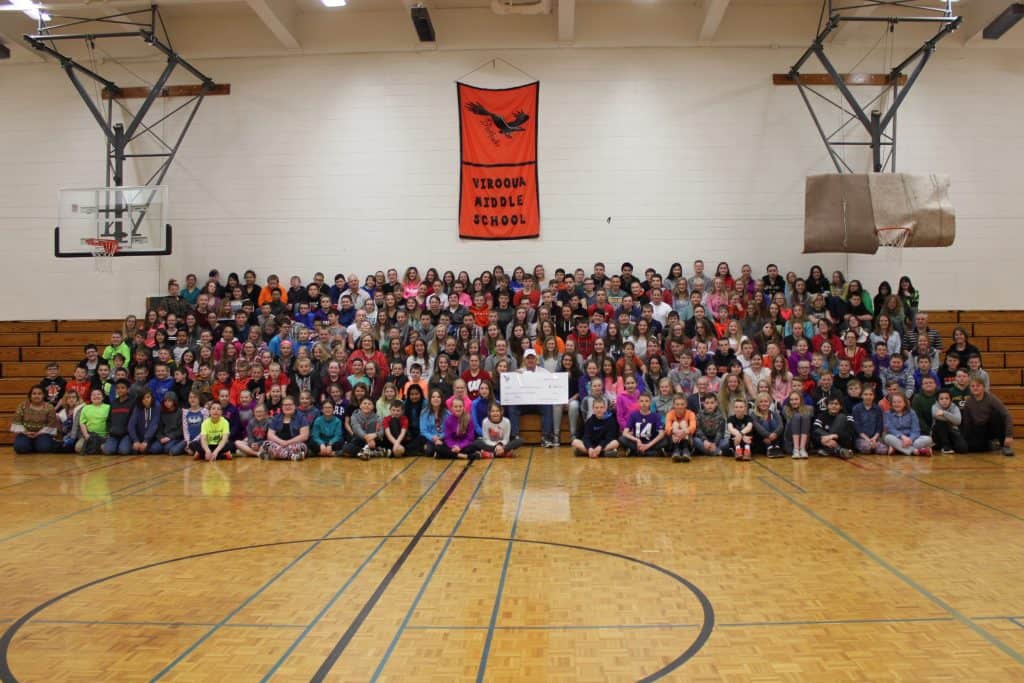 Lanesboro High School to host Honor Flight Dinner
Lanesboro High School will host a fundraiser dinner for Honor Flight Network Wednesday, April 26 at the high school gymnasium from 6 p.m. to 8 p.m. Organized by sophomores Coy Pederson and Brynn Howerton, the event is created to help send local veterans on future Honor Flights to see the memorials built in their honor.
Meal tickets are $8 for adults, $5 for kids and free for children 5 and under. Dinner includes pulled-pork sandwiches, baked beans, coleslaw, apple pie, and a beverage.
Cabin Coffee to host $1 coffee day April 21
Cabin Coffee – La Crosse North on 2843 Darling Court (below Famous Dave's) is offering $1 coffee Friday, April 21. From 7 a.m. to 6 p.m., all coffee orders that are over $1 go to the benefit of Freedom Honor Flight.
As part of the promotion, Classic Hits 94.7 is hosting live coverage of the event at Cabin Coffee. From 7 – 9 a.m. and 11 a.m. – 1 p.m., Freedom Honor Flight board members will provide information and answer questions about the organization and its operations.
Thank you Mid-West Family Broadcasting and Cabin Coffee for the support!